RCH hits 1 million pound mark in 2020!
River Cities Harvest secures and distributes food each year to its 30 partner agencies feeding the hungry in Boyd, Greenup and Lawrence counties in Kentucky and Lawrence County in Ohio. In 2020, 1,052,817 pounds were collected.
By accessing supplemental food from River Cities Harvest foodbank rather than purchasing from commercial outlets, each of these partner agencies has expanded resources to advance their own missions.
RCH has successful partnerships with retail grocers, restaurants, civic organizations, local farmers, private donors, food manufactures and processors that provide us with access to thousands of pounds of food annually. The organization is an affiliate of the Facing Hunger Food Bank in Huntington, WV, and Feeding America — the nation's leading domestic hunger relief charity.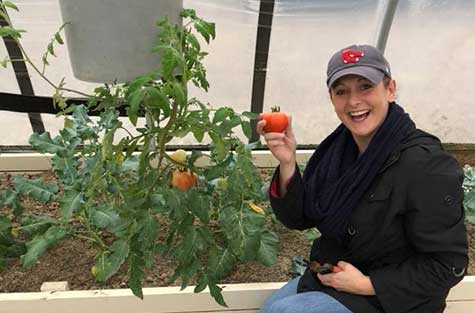 River Cities Harvest Director Brittnany Hoback holds a tomato from the greenhouse at the Federal Correctional Institution in Ashland. Produce is grown in the winter as part of the RCH program with the prison.
River Cities Harvest began in the early 1990s as a volunteer effort led by a group of ordinary retired citizens looking for a way to help a local meal center, Ashland Community Kitchen, serve food to the hungry in Ashland, Kentucky.
These founding volunteers were troubled by the amount of perfectly useable food being thrown away by restaurants and grocery stores while free meal centers and shelters struggled to meet demand.
They soon came up with a simple solution.
They began coordinating donations from restaurants to Ashland Community Kitchen, picking up surplus food in their own vehicles and delivering it free of charge the same day. As a result, leftover food was being given to those who needed it most, instead of going to waste.
The success of these initial efforts led to the formal creation of River Cities Harvest in 1991, and while the scope of the organization has grown, its simple, common sense approach to fighting hunger has remained unchanged.
River Cities Harvest now distributes food each year to 30 agencies feeding the hungry in Boyd, Greenup and Lawrence counties in Kentucky and Lawrence County, Ohio.
Our mission to combat hunger is accomplished through food rescue and redistribution.
Food rescue is the practice of collecting excess food that is donated to River Cities Harvest from the food industry and distributing it to agencies that feed people in need. This food stream significantly reduces the funding needed by each of the agencies to purchase food from retail suppliers, thus allowing them to expand their services.
River Cities Harvest collects food using volunteer food transporters, who pick up the food at the donor location and either deliver it immediately to our recipient agencies, or deliver it to our warehouse location for redistribution.
In addition to receiving regular donations from our partners in the food industry, River Cities Harvest also partners with the Boyd County Extension Office on two large seasonal projects – our educational Nutrition Program and a three-way partnership with the Federal Correctional Institution's Master Gardener Program, where the inmates grow and donate over 60,000 pounds of fresh produce annually.
As a volunteer-driven organization, maintaining a high public profile is a key component of our success. By increasing awareness of the need in our area and the help that can be given by food rescue, we hope to increase perishable food donations, our volunteer base, and the agencies served.
River Cities Harvest is a United Way agency and a Redistribution Organization of the Feeding America program through Facing Hunger Foodbank, a network of food programs across the country that seek to ensure edible food will not be thrown away, but used by agencies to feed those in need.

How can River Cities Harvest help you?