RCH hits 1 million pound mark in 2020!
River Cities Harvest secures and distributes food each year to its 30 partner agencies feeding the hungry in Boyd, Greenup and Lawrence counties in Kentucky and Lawrence County in Ohio. In 2020, 1,052,817 pounds were collected.
By accessing supplemental food from River Cities Harvest foodbank rather than purchasing from commercial outlets, each of these partner agencies has expanded resources to advance their own missions.
RCH has successful partnerships with retail grocers, restaurants, civic organizations, local farmers, private donors, food manufactures and processors that provide us with access to thousands of pounds of food annually. The organization is an affiliate of the Facing Hunger Food Bank in Huntington, WV, and Feeding America — the nation's leading domestic hunger relief charity.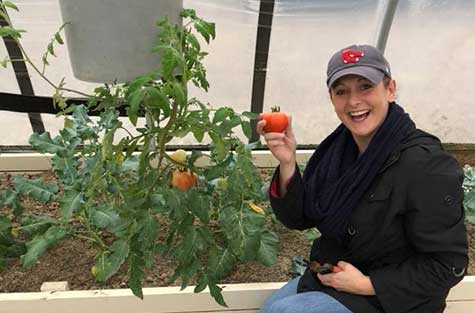 River Cities Harvest Director Brittnany Hoback holds a tomato from the greenhouse at the Federal Correctional Institution in Ashland. Produce is grown in the winter as part of the RCH program with the prison.

How can River Cities Harvest help you?